A summary of the game engine framework that allows you to develop Facebook instant games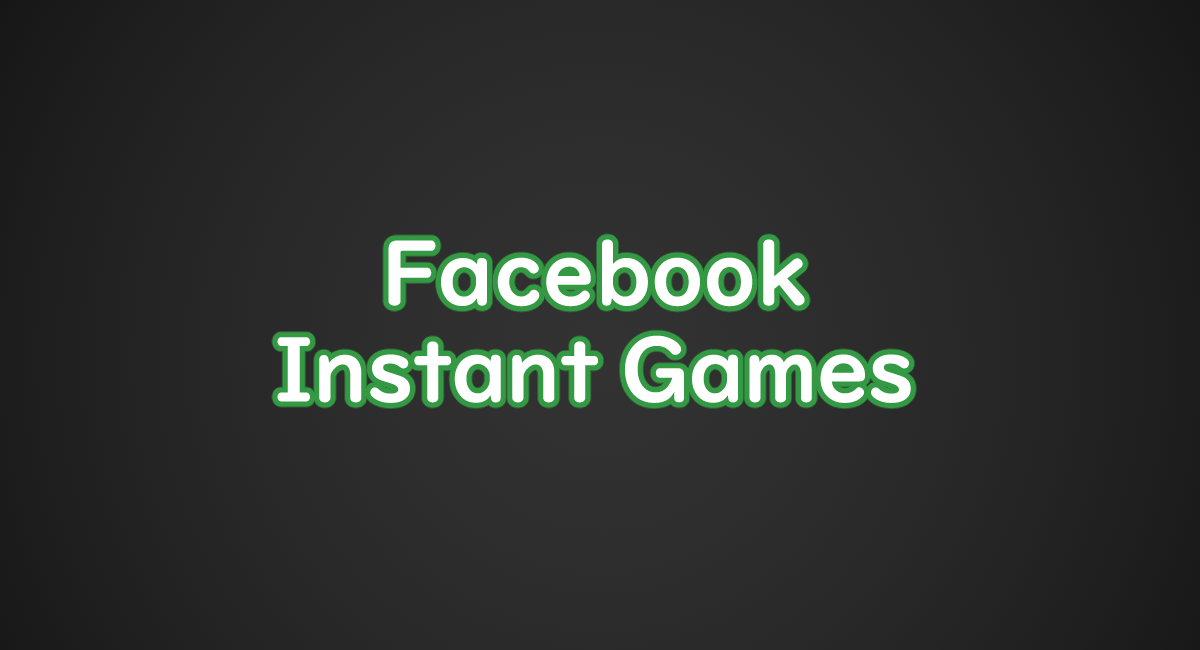 This is a summary of the game engine or framework in which you can create a HIML5 game that works in a mobile browser.
Unity (Project Tiny)
Project Tiny in Unity is a Unity created entirely in Pure ECS, unlike the current Unity called Tiny Mode.
It is now a preview version and will be officially released in 2019.It is available in the package introduction "Tiny Mode".
The preview version is supported by TypeScript, but the official version is replaced by c# (Typescript is no longer supported).
If you output in the Project Tiny version, the core file is lightweight, mobile browser behavior, it seems to be able to create a game for mobile instant game platform.
The status quo is not implemented as a dedicated output to Facebook instant games, so you need to rework before uploading.
If the Project Tiny version of Unity is officially released, there will be many Japanese documents and development blogs.
Links: Instant Games | Unity
Unity
Unity of the normal edition.
I usually think Unity is WebGL output, so we can't post it to Facebook instant games, but there's a way to get an access token for asset uploads at web hosting, Now you can upload the WebGL build target of Unity directly by compressing it in zip format (requires Unity 5.4 or later).
Because the file size restriction etc. are not described, it is likely to be 200MB or less as well as other methods.
Egret Engine
Egret engine is a game engine for HTML5 games that has a big share in the Chinese area.
After installing "Egret Launcher", the editor "Egret Wing" will be installed and used separately.The output to the Facebook instant game is also included.
Supported programming languages include JavaScript, TypeScript and more.
Because the amount of information in the Japanese is small, it might be difficult to understand the operation.
Link: Egret
PlayCanvas
PlayCanvas is a game engine and visual editor for HTML5 games.
The supported programming languages are TypeScript and others.
You can use PlayCanvas to develop HTML5 games for free, but you need to change to a paid plan to upload to other than PlayCanvas.
Link: PlayCanvas WebGL Game Engine
Phaser
Phaser is also a game development JavaScript framework for HTML5 games.
Supported programming languages are JavaScript and TypeScript.
Phaser Visual editor "Phaser Editor" has also been compatible with the current Phaser version Phaser3, but it will be the type that will write the code rather skinny.
You can start with the code Editor you're using, so if you're somewhat familiar with JavaScript, it's easy to get started.
Although there are few Japanese documents, there are many documents in English.
There are also output documents to Facebook instant games in Phaser3.
Link: Phaser-A fast, fun and free open source HTML5 game Framework
Cocos Creator
Cocos Creator is a game engine visual editor for HTML5 games.
Supported programming languages include JavaScript and TypeScript.
It is English, but the editor code and the document are also aligned, so it is likely to use it without having a hard time.
The output for Facebook instant Games is also available.
Link: Cocos Engine Official Website | Cocos Creator | Cocos2d-x | Open Source Cross-Platform Game Development Engine
Which game engine to choose
If there is an HTML5 output that can be executed even mobile by the game engine that is already used, I think whether it is good to use it.
One of the parts that was the bottleneck in unity the game was overcome by the mobile browser. Unity Project Tiny will be very attractive in the future.
It is possible to use only TypeScript at this stage of May 2019, and it is likely to wait for a while because it is not practical when it becomes obsolete when TypeScript is switched to c# in the future official version.
---